Κατάργηση του έκτακτου φόρου από 19 σε 25% για εταιρείες με τζίρο άνω των 50.000 Λιρών ως μέτρο του Growth Plan – των μεγαλύτερου προγράμματος φοροαπαλλαγών των τελευταίων 50 ετών.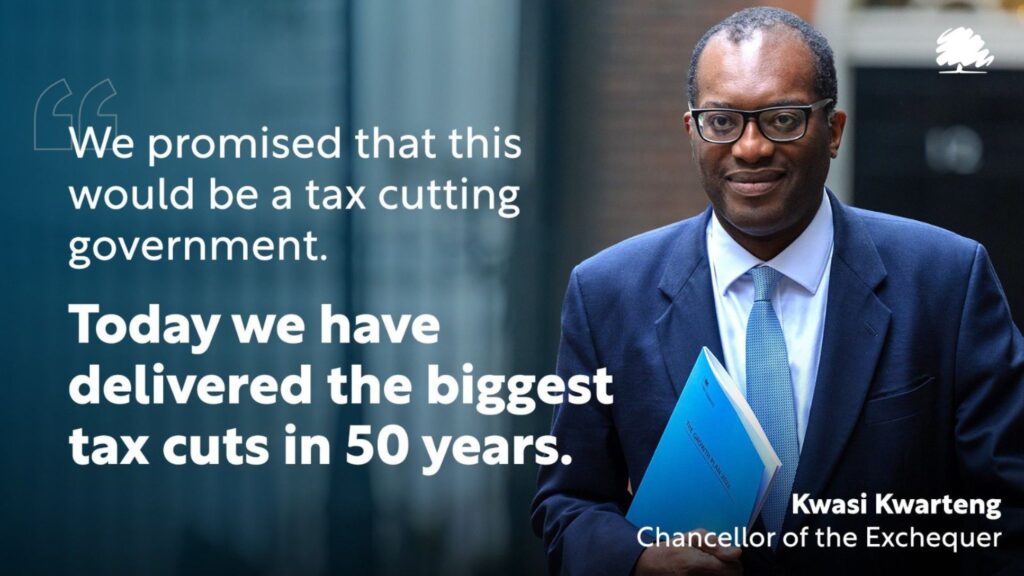 Σημερινή ανακοίνωση του HMRC (22/09/2022)
Dear customer,
Earlier today, the Chancellor of the Exchequer, the Rt Hon Kwasi Kwarteng MP, published the government's Growth Plan – a package of measures to deliver a pro-growth, simplified tax system that supports business investment across the United Kingdom, and allows people to keep more of their own money.
This comes a day after the government announced that the Health and Social Care Levy (HSCL) of 1.25% due to be introduced from April‌‌‌ ‌‌2023 will not now go ahead – and that the 1.25 percentage point uplift in National Insurance contributions (NICs) rates that was introduced in April 2022, will end on 6‌‌‌ ‌‌November 2022. HMRC has emailed software providers, employers and agents to make them aware of these changes.
Measures announced today, which will be of particular interest to employers, include:
• bringing forward the 1 percentage point cut to the basic rate of Income Tax to April 2023 and abolishing the additional rates of Income Tax – accompanied by changes to the dividend tax rate
• the cancellation of the planned increase to the Corporation Tax (CT) main rate from 19% to 25% – with the main rate remaining at 19% from 1‌‌‌ ‌‌April 2023
• the repeal of reforms to the Off-Payroll Working (OPW) rules introduced in the public sector in 2017 and extended to medium and large-sized organisations in the private and voluntary sectors in 2021 – with workers providing their services via an intermediary once again responsible for determining their employment status and paying the correct amount of tax and National Insurance contributions from 6‌‌‌ ‌‌April 2023
• confirmation that the Annual Investment Allowance (AIA) will be set at £1 million permanently, originally raised from £200,000 as a temporary measure in January 2019 (and due to end in March 2023)
• the introduction of new investment zones around the UK where enhanced tax reliefs will be offered for Stamp Duty Land Tax (SDLT), Enhanced Capital Allowances, Structures and Buildings Allowance and Employer National Insurance contributions
• an expansion of the Seed Enterprise Investment Scheme (SEIS) to help more UK start-ups raise higher levels of finance – doubling the annual investor limit to £200,000, increasing the gross asset limit to £350,000 and making it easier for investors to claim tax reliefs, due to come into force from 6‌‌‌ ‌‌April 2023
• changes to the Company Share Option plan (CSOP) scheme – increasing the employee share option limit from £30,000 to £60,000 and removing a condition which limits the types of shares eligible for inclusion within the scheme, both due to take effect from 6‌‌‌ ‌‌April 2023
• the cancellation of the planned increase in the rate of Diverted Profits Tax from 25% to 31% and the planned reduction in the Corporate Tax surcharge rate for banking companies, both of which had been due to take effect from 1‌‌‌ ‌‌April 2023
Full details of today's announcement, including the full Growth Plan document, can be found on GOV.‌‌‌‌UK.
Yours faithfully
HM Revenue and Customs